Space Science Events
The New Mexico Museum of Natural History & Science has a number of Space Science themed events throughout the year, from Starry Nights to Solar Sundays and more.
---
Fractal Fridays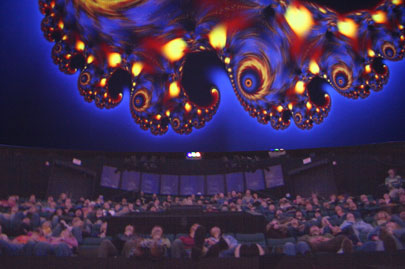 The First Friday of every month
First Friday Fractals is the spectacular, award-winning fulldome planetarium show that takes viewers on a tour of the fractals in nature and zooms through infinitely complex mathematical fractals. Featuring original music, the show is both educational and highly entertaining, and suitable for audiences 3 and up.
---
Lunar Mondays
Our observatory will be open for free one Monday a month for lunar observing!
View the moon close up and learn about its features, space exploration, and more!
The next openings will be:
December 1, 2014 7-8 p.m.
January 26, 2015 7-8 p.m.
February 23, 2015 7-8 p.m.
---
Orion Shuttle Launch Party!
December 4, 2014 | 5:00 AM - 12:00 PM
The new Orion spacecraft is NASA's next generation vehicle to carry humans beyond Earth's orbit. See the first test mission of this launch system, from its breathtaking blastoff at approximately 6 a.m. to the capsule's splashdown several hours later. Learn about the development of this rocket and enjoy fun activities related to manned space exploration.
For more information, click here.