Space Science Events
The New Mexico Museum of Natural History & Science has a number of Space Science themed events throughout the year, from Starry Nights to Solar Sundays and more.
Laser Mania in the Planetarium!
Travel back to the sights and sounds of three immortal musical groups in the (New Mexico Museum of Natural History & Science) Planetarium! For one weekend only, the music of the Beatles, Led Zeppelin, and two albums of Pink Floyd will be brought to life in laser light. Two laser systems will fill the planetarium dome with choreographed light, allowing the music and light to envelope you. Over a million laser-generated hues and colors poetically express each timeless track. If you want to enjoy this experience more than once, discounts are offered for attending multiple shows.
Fifteen Beatles classics, like Hard Day's Night, I Wanna Hold Your Hand, Lucy in the Sky with Diamonds, Yesterday, and Sgt. Pepper's Lonely Hearts Club Band, form a spellbinding Beatles tribute in light.
Transcend time and space with classic Zeppelin such as the Immigrant Song, Over the Hills and Far Away, Heartbreaker, Rock and Roll, Dazed and Confused, Whole Lotta Love, and, Stairway to Heaven.
Experience hits from Echoes by Pink Floyd, including One of These Days, Comfortably Numb, Money, and Wish You Were Here, in haunting laser landscapes.
Pink Floyd's Dark Side of the Moon, with the songs Money, Time, The Great Gig in the Sky, and Brain Damage, make the most consistently popular album interpreted in laser concerts.
7 & 9 p.m. – Laser Beatles
8 & 10 p.m. – Laser Led Zeppelin
7 & 9 p.m. – Laser Pink Floyd: Best of Echoes
8 & 10 p.m. – Laser Pink Floyd: Dark Side of the Moon
$6 - adults, $5 - members & seniors. Get a coupon for $2 off a future show with each ticket purchased!
For families, a different laser show with popular music will be offered at 3 p.m. July 12 – 17. Laser characters, animations, and music making Summer Laser Jam an ideal program for people of all ages who are looking to take a break from the real sun and yearn for a soothingly cool indoor oasis. The show features a variety of songs, including Surfin' USA by the Beach Boys, Walking on Sunshine by Katrina & The Waves, and Good Feeling by Flo Rida, among others.
July 12 – 17:
3 p.m. – Summer Laser Jam
$6 - adults, $5 - members & seniors, $4 - children
Finally, a special educational laser program will be shown during Family Science Night on July 15. Laser in Space explores how lasers fired high into the atmosphere are now letting ground-based telescopes see distant galaxies clearly, a feat thought impossible only a few years ago. Learn why today's most advanced robotic space probes now carry laser-powered instruments, including the first 'laser gun,' to map the surface of other planets and to sniff out the chemical composition of outer space. Along the way take a few brain breaks and enjoy some of today's most out-of-this-world tunes set to dazzling laser light.
July 15:
7 & 9 p.m. – Lasers in Space
Only $1 per person!
---
Fractal Fridays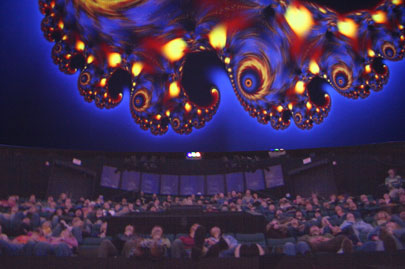 The First Friday of every month
First Friday Fractals is the spectacular, award-winning fulldome planetarium show that takes viewers on a tour of the fractals in nature and zooms through infinitely complex mathematical fractals. Featuring original music, the show is both educational and highly entertaining, and suitable for audiences 3 and up.
---
Solar Sundays
September 21 & November 16, 2014
10:00AM - 2:00PM
The museum's observatory offers safe views of the sun Tuesday through Sunday mornings, but this special Solar Sunday event is an opportunity to study our star in greater detail, and have a little more fun too! In addition to viewing the sun in several ways through a variety of specially-filtered telescopes, fun family activities will demonstrate the power of the Sun's light, heat, and radiation. Kids can color their own sun, make solar-powered jewelry, and learn how to protect their eyes in the daytime. Learn about the tiny rocks that orbit the sun from the UNM Institute of Meteoritics. The ABC Library System will sign visitors up for library cards and the summer reading program. Everything is included with museum or planetarium admission!
---
Ten Years on Mars
This January the Spirit and Opportunity Rovers celebrated their tenth year on Mars, and the New Mexico Museum of Natural History has an exhibit to commemorate the occasion! Our own Dr. Larry Crumpler is a Principle Investigator for the Opportunity Rover.
Exhibit - Tenth Anniversary of the Mars Exploration Rover Mission: Mars Photographic Landscape Art
January 23 - August 3, 2014, free with museum admission.