Space Science Events
The New Mexico Museum of Natural History & Science has a number of Space Science themed events throughout the year.
---
(Almost) Total Lunar Eclipse
April 4, 2015 | 4:30 – 6:30 a.m. | Admission by Donation
Normally during a total lunar eclipse, the moon moves into the darkest part of the Earth's shadow and completely turns a dark red color. This eclipse will be unique since the moon will be so close to the edge of the shadow, the tiniest sliver of it will probably remain in sunlight when viewed from New Mexico. Get up early and see what happens! Doors will open at 4:30 a.m., shortly after the partial phase of the eclipse begins. The maximum eclipse, when the moon will appear darkest, will happen at 6 a.m., then the moon will set shortly thereafter.
Please note: this event will be canceled if the sky is cloudy!
---
Fractal Fridays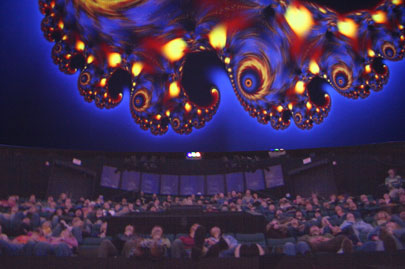 Photo credit: Velvet Valentine
The First Friday of every month
First Friday Fractals is the spectacular, award-winning fulldome planetarium show that takes viewers on a tour of the fractals in nature and zooms through infinitely complex mathematical fractals. Featuring original music, the show is both educational and highly entertaining, and suitable for audiences 3 and up.
---
Lunar Mondays
Our observatory will be open for free one Monday a month for lunar observing!
View the moon close up and learn about its features, space exploration, and more!
The next openings will be:
February 23, 7-8 p.m. - We'll also be observing the conjunction between Mars and Venus this night!
March 30, 8:30-9:30 p.m.
April 27, 8:30 - 9:30 p.m.