Space Science Events
The New Mexico Museum of Natural History & Science has a number of Space Science themed events throughout the year.
---
Fractal Fridays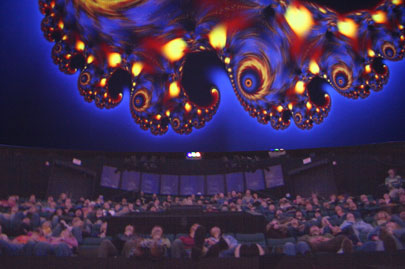 Photo credit: Velvet Valentine
The First Friday of every month
First Friday Fractals is the spectacular, award-winning fulldome planetarium show that takes viewers on a tour of the fractals in nature and zooms through infinitely complex mathematical fractals. Featuring original music, the show is both educational and highly entertaining, and suitable for audiences 3 and up.
---
Lunar Mondays
Our observatory will be open one Monday a month for lunar observing! Admission is by donation, so feel free to contribute what you can.
View the moon close up and learn about its features, space exploration, and more!
The next openings will be:
April 27, 8:30 - 9:30 p.m.
May 25, 8:30 - 9:30 p.m.
June 29, 8:30 - 9:30 p.m.
These events are cancelled if the sky is cloudy!