Space Science Events
The New Mexico Museum of Natural History & Science has a number of Space Science themed events throughout the year.
SPACE WEEK
September 20 - 27, 2015
Explore our solar system, from the moon to the sun and out to planets recently visited by robotic explorers.
September 20: Solar Sunday | 10 a.m. – 2 p.m. | Included in Museum Admission | Celebrate the equinox by seeing the sun safely through filtered telescopes and enjoy special activities and programs exploring the sun's energy.
September 21:
Latest News from Mars | 3 p.m. in the planetarium | $4 per person | Dr. Larry Crumpler will share recent findings from the Mars Opportunity Rover.
Lunar Monday | 8:30 – 9:30 p.m. | Admission by Donation | Observe the moon and other objects in the night sky though the observatory telescope.
September 22 – Planetarium Closed
September 23: Greetings from Pluto | 3 p.m. in the planetarium | $4 per person | Planetary geologist Jayne Aubele will interpret some of the recent discoveries made by the New Horizons spacecraft.
September 24:
Special Showing of Sunstruck | 3 p.m. in the planetarium | $4 per person | Observe the sun safely while entering the museum, then see a special planetarium show that describes how our star works.
Newly Discovered Martian Meteorites | 7 p.m. in the planetarium | $6 ($5 members, $4 students) | Dr. Carl Agee will describe what we've learned about Mars by studying meteorites which originated on the planet.
September 25: Tour of Space Science | 3 p.m. in front of the ViewSpace theater | $4 per person | Enjoy a guided tour though the exhibits in the Space Science area of the museum.
September 26 : Eclipse Preview | 3 p.m. in the planetarium | $4 per person | Find out what causes an eclipse, why the one happing the next day is special, and when others will be visible in the coming years.
September 27: Total Lunar Eclipse | 7 – 9:30 p.m. | Admission by Donation | Don't miss the last total eclipse of the moon visible until 2018! See the moon turn red through several telescopes.
ANY ACTIVITY OBSERVING OBJECTS IN THE SKY WILL BE CANCLED IF IT IS CLOUDY
---
Fractal Fridays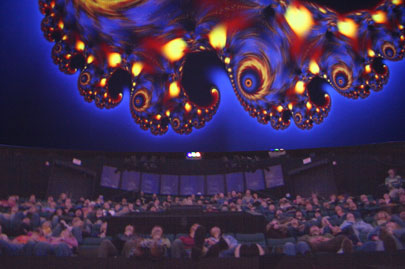 Photo credit: Velvet Valentine
The First Friday of every month
First Friday Fractals is the spectacular, award-winning fulldome planetarium show that takes viewers on a tour of the fractals in nature and zooms through infinitely complex mathematical fractals. Featuring original music, the show is both educational and highly entertaining, and suitable for audiences 3 and up.
---
Lunar Mondays
Our observatory will be open one Monday a month for lunar observing! Admission is by donation, so feel free to contribute what you can.
View the moon close up and learn about its features, space exploration, and more!
The next openings will be:
September 21, 8:30-9:30 p.m.
October 19, 7-8 p.m.
November 23, 7-8 p.m.
December 21, 7-8 p.m.
These events are cancelled if the sky is cloudy!