You are here
Verus Research DynaTheater
Tickets for the DynaTheater are only available for purchase at the museum currently.
Film Schedule for the Verus Research DynaTheater

| | |
| --- | --- |
| 10am | Serengeti |
| 11am | Sea Lions |
| 12pm | Dinosaurs of Antarctica |
| 1pm | Serengeti |
| 2pm | Sea Lions |
| 3pm | Dinosaurs of Antarctica |
| 4pm | Serengeti |
*Verus Research DynaTheater Shows start on the hour.  Please arrive 5 min early. 
Serengeti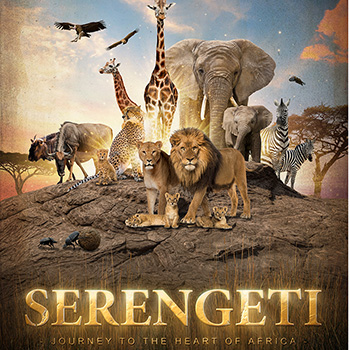 The day-to-day lives of majestic animals, including lions, zebras, baboons and cheetahs, over the course of a year in Tanzania are documented in "Serengeti." As the season of plenty starts to come to an end, food is harder to find and the animals are put to the ultimate test. There are new arrivals and unexpected problems, as well as danger at almost every turn. These animals do anything they can to survive and protect their offspring, and they stop at nothing to prove their worthiness to their tribe. Each animal has a unique story, and many of the stories come to the surface.
---
Dinosaurs of Antarctica
From the Permian through the Jurassic, journey to the south polar landscapes of Antarctica hundreds of millions of years ago. Roam the primitive forests and thick swamps with bizarre dinosaurs and colossal amphibians. Enter a surreal world of bug-eyed giants and egg-laying mammals—where survival means enduring the sunless, six-month polar winter surrounded by meat-eaters with night vision. Join intrepid Antarctic scientists on a quest to understand the ice continent's profound transformation—and to predict the future as humans drive dramatic change. Welcome to the lost prehistoric world of Gondwana. Welcome to Antarctica.   
---
Sea Lions


Between a jagged cliff face and a roaring ocean, lives a colony of Australian Sea Lions. In an environment equally as harsh as it is beautiful, be immersed in a classic coming of age tale guided by one of Australia's most unique, intelligent, and playful animals. Take an intimate journey inside the colony where a life of great intimacy, tenderness, and clumsiness, must often give way to a life of great sacrifice and bravery. Dive into the world of a rare Australian Sea Lion pup and meet the people that are trying to save her species.
---
Films come to life on a five-story giant screen complete with digital surround sound.
Digital 3D is Here!
With partners D3D Cinema, Barco, and Dolby, the enhanced large-format DynaTheater now features the world's first 2D/3D digital 4K dual projection system. The system features two new projectors, new digital surround sound, and a new five story white screen. With optimum viewing throughout the renovated theater, there isn't a bad seat in the house!
Presenting Sponsor:
data-href="http://www.nmnaturalhistory.org/node/102" data-layout="standard" data-action="like" data-show-faces="true">